Posted January 15th, 2016 at 4:12 pmNo Comments Yet
The final installment. It's been a long time coming, but finding time among the holidays to write in this blog is a hassle. I should really just schedule blog posts when I know I won't be able to write. Silly me.
This was Sunday, the final day of BurlyCon. I had a fantastic time the other days, and I don't know how, but I managed to get my butt out of bed and get to a class in the first time block. The day was great.
First Class Session
Classes Available: Discover Local Burlesque History, Shimmy up the Burlesque Ladder, Defining Your Brand, Cardio Tease, Advanced Floorwork, Upcycling: Creating Unique Costumes, Doin' It Live: Working with Live Music, Bombshell Yoga, Pilates
What I Took: Defining Your Brand with Baby Doe
This was a really good class. I had a hard time choosing a class in this time slot with so many good options, but after the long night I had Saturday I was glad I chose a classroom rather than a movement session. Baby Doe is very knowledgeable about brand marketing, and the class was very helpful, even if I may not be far enough along in my burlesque life to actually put everything she said to use. There was a lot to take in, and if I learned anything, it's that I have a lot of work to do to figure out who I really am as a performer.
Second Class Session
Classes Available: Nerdlesque; Are These the Droids You're Looking For?, A Peek Into Production, Body Positivity & Beauty Standards in Burlesque, Power of the Pose, Old Tyme Burlesque, Making Buckram Skull Caps, Man Up! Makeup! Stage Make-Up for Male Characters, Your Failures Your Successes, Self Defense for Performers, What's Your Vision? Build a Vision Board
What I Took: Making Buckram Skull Caps with Bic Carroll
When I originally looked at the schedule and was trying to decide what classes to take, I had a hard time with this time slot. But after taking Bic's other class, taking this one seemed like a no-brainer. I would take just about any class Bic was willing to teach. He's a genius, and I love him. I took so many notes in this class it's crazy. This class combined with some of the silly tricks learned in Amber Ray's headdresses class makes me eager to make myself some over-the-top headdress pieces. Amazing.
Third Class Session
Classes Available: Let Me Entertain You, The Ethical Producer, Sass and Play Cabaret Dance, Stripper Zippers 101, Producing Big Events With a Big Heart, Act 2: This Class Goes to 11!, Tiger & the Lamb: Burlesque Archetypes
What I Took: Sass and Play, Cabaret Dance with Midnite Martini
Yet another fabulous movement class with Midnite. This wasn't a particularly challenging dance class, but it spoke right to my heart and the types of movement I like to do in both my acts and my life. She's a marvelous teacher, a marvelous person, and I will be forever grateful that I got to learn from her. Might have been a slight mistake to take this right before the Can-Can (wow, my legs were sore!), but it was really great.
Fourth Class Session
Classes Available: The Art of the Set List, I'm Too Old for This Shit, More Sequins and Social Justice: Ally 201, Funny and Sexy: Finding the Emotion, Can Can Kick It, The Electric Showgirl: Sewing with Lights, The MIXXX 103-Intermediate Audio Engineering, Structured Playtime
What I Took: Can Can Kick It with Ariel Helvetica
One of my favorite classes of the whole weekend. I learned a little (not a lot), but Ariel had us all going full tilt the whole class. My adrenaline was pumping, I worked up a sweat, and it was really fantastic. Really I should just do the can can around my living room whenever I need a mood boost. I wish this was a class nearby that I could take each and every week. Awesome.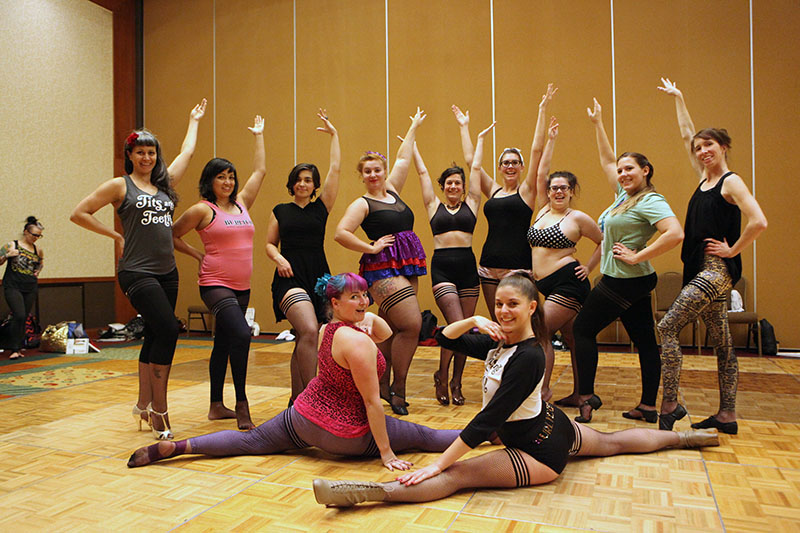 Fifth (and final!) Class Session
Classes Available: Merch & Promo Items: Expanding Your Brand, An Audience with the Queen, Preparation for Press Producers & Festival Applications, Pattern Alteration, Stage Management 101, Support Time
What I Took: Pattern Alteration with Scarlett O'Hairdye & Bolt Action
I should preface what I'm about to say with this: Scarlett and Bolt are extremely knowledgeable in this subject. That said, this might be one of the only classes I regret taking. I thought I would get more out of it than the other classes I was interested in, but I really didn't. Honestly, I think the class was too short. They spent a lot of time talking about packaged patterns and what all the symbols and lines meant, how to "decode" the patterns before altering them, and it didn't leave a lot of time for the best techniques for altering. I was a little disappointed that it was marked as "Intermediate" level in the guide, as the information presented seemed fairly basic…but maybe I've just been sewing for too long. I'd love to see what they would do with a slightly different format and a longer time slot.
Closing Ceremony
A little hokey at first, but very touching and lovely. Lots of tears were shed, lots of beautiful things were said. I was filled with gratitude during the entire ceremony and speeches made for being able to share space with so many beautiful human beings. These are the sides of people that the audience never gets to see. Really wonderful.
Some closing notes:
Being a baby burlesquer in a city that doesn't have a lot burlesque opportunities, if it even understands what it is we do, I have struggled to find who I am as a performer, and to identify with this character that I have been creating. BurlyCon was a bit like a classic immersion study for me. I got to introduce myself as Hedy to everyone I met, nobody knew me for who I am at home with my husband and daughter, behind the scenes. To make friends with people who want to know you as this other entity was fantastic and freeing. As much as I love the Danger Damsels, my little Grand Rapids burlesque family, they are my friends within and without burlesque. To make a friend, and have them sleep in the bed across from you in a hotel room, roll over and say "Hed, you okay?" I almost burst into tears. Until BurlyCon, Hedy Harper wasn't a person. She was just a name the emcee said before I took the stage. Now she's her own person. She's me, when I don't want to be just me. She's super-me. And I'm so very grateful.
XOXO
No Comments Yet